Fundamental Baptist Church picking up children since 1971.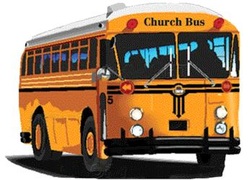 We have a program just for them.

1. The bus captain will pick up your children at your door.

2. When the bus arrives at the church your children will be escorted to their classrooms where friendly, competent teachers receive them. In the Sunday School classes your children will be instructed in the basic doctrines of the Bible.

3. After a classroom setting your child is escorted to a general assembly room for a church service planned with their needs, attitudes and abilities in mind.

4. Then the children are helped back on the bus and are driven right back to your door. The bus captain will help your children across the street so all are safe.

We would consider it a real honor if you would let your children visit with us this Sunday. Contact us at 972-449-3265.

Thank you so much!

Bro. James Smith


---
Our Bus Routes

Ennis Route
The Ennis Route is driven by Associate Pastor Bro. James Smith and Patric & Nancy Rose as helpers.

Ferris Route
The Ferris Route is driven by Bro. Rico Rodriguez and Mrs. Yvonne Rodriguez is the helper.
Palmer Route

The Palmer route is driven by Bro. Marvin Rhoades with Brittany Rhoades as a helper.

Wednesday Night Palmer Route

We also have a Wednesday Night route in Palmer for our Kings Club Ministry. Bro. Kenneth Bateman is the driver and his helper is Associate Pastor Bro. James Smith.


2014 Playground Sunday!